Guitar Chord fingering with PHP
This post is more than 18 months old. Since technology changes too rapidly, this content may be out of date (but that's not always the case). Please remember to verify any technical or programming information with the current release.
After cleaning up some old files in my archive, I found this snippet of code I made a while ago.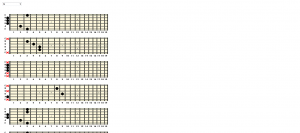 Basically, it just shows all the combinations of a single guitar chord on a neck when you choose it from the drop down. It may be useful - it's nothing ground breaking. Check it out by downloading the zip file below and running it.